As a company oriented to the future, R&D plays an important role for ANADIAG ITALIA, a continuous investment to guarantee a specialized service.
Research studies in collaboration with Research Institutes, Universities, Institutions and Authorities. Particular attention is done on Monitoring of new phytosanitary emergency. Only few examples:
Sustainability of grape production in Piedmont. University Piacenza, Piemonte Region, 2021-2022
Microbiome applications for sustainable food systems. Project with 34 Universities and Institution all over Europe, 2020-2022
Evaluation of new strategies for the control of weeds in pre-sowing application on Industry tomato, Consorzio Fitosanitario Piacenza, 2020
Evaluation of an innovative technologies as phospatic fertilizers on maize, University of Verona, 2019
Evaluation of strategies for the Control of the new pest Popilia japonica, ERSAF – Lombardy Region, 2017
Evaluation of strategies for the Control of the new pest Halyomrpha halys on Apple, Friuli Venezia-Giulia Region – ERSA, 2016
Practical use and monitoring of disease model (vite.net) in some vineyards in Piemont. Consorzio Tutela Vini Colli Tortonesi & Horta, 2014-16.
'Evolution of the Flavescence dorée and its vector (S. titanus) around the Tortona's area'. Piedmont Region, 2007-14
IPM strategy on grape comparing different PPP and different system as mechanical defogliation. Piedmont Region, 2008-11
Evaluation of strategies for the Control of the new pest Diabrotica virgifera on mais, Institut ARVALIS France, 2008-10
Project on 'Use of sugar for defense against losses caused by Lepidopteran species'. INRA France, 2009.
'Monitoring about Esca of Grapevine disease'. Piedmont Region and University of Florence, 2006-08.
Study of use of different calcium formulations against 'Botrytis cinerea' ERSAF Lombardy Region, 2007-08.
Project on the Reduction of Copper in viticulture against downy mildew, with the organization of the final international conference. ERSAF Lombardy Region, 2004-06
Modern and specific equipments to ensure high quality data of the trials, high safety level for the field technicians and the enviromental safety.
Weather stations
to support the field trials with scientific approches:
Complete meteo data in real-time and historical (temperature, rain, dew, wind, atmospheric pressure, radiation, air humidity, leaf wetness)
Implement and follow DSS and alert models for many pests to decide the best timing of application (such as vite.net and pomodoro.net)
Weather forecasts for the specific fields of the trials
Phytobach Biobed, is a system for a natural degradation of the solutions contaminated by PPP, in particular the remaining solutions after the applications, the washing solution of the experimental sprayers, and the solutions of the laboratory, in order to preserve the environment and avoid punctual contaminations.
Customized vans, specifically designed and equipped for a maximum safety and organization of the Field Technician, p.e. with a safe and optimal separated transport of the specimens and the products to be applied. Different vans for GLP and GEP are designed for the different purpose.
Electronic Water volume measurement guarantee a very precise volume measurement of the water for the applications in the field.
Calibration of the Sprayers. ANADIAG ITALIA is a certified company for functional checkering and calibration of the farmer sprayer equipments, following the 2009/128/CE Regulation. Those equipments are also used to check, improve and adapt the different experimental sprayers to guarantee the best efficency in the trials.
Compact Sprayer for orchards applications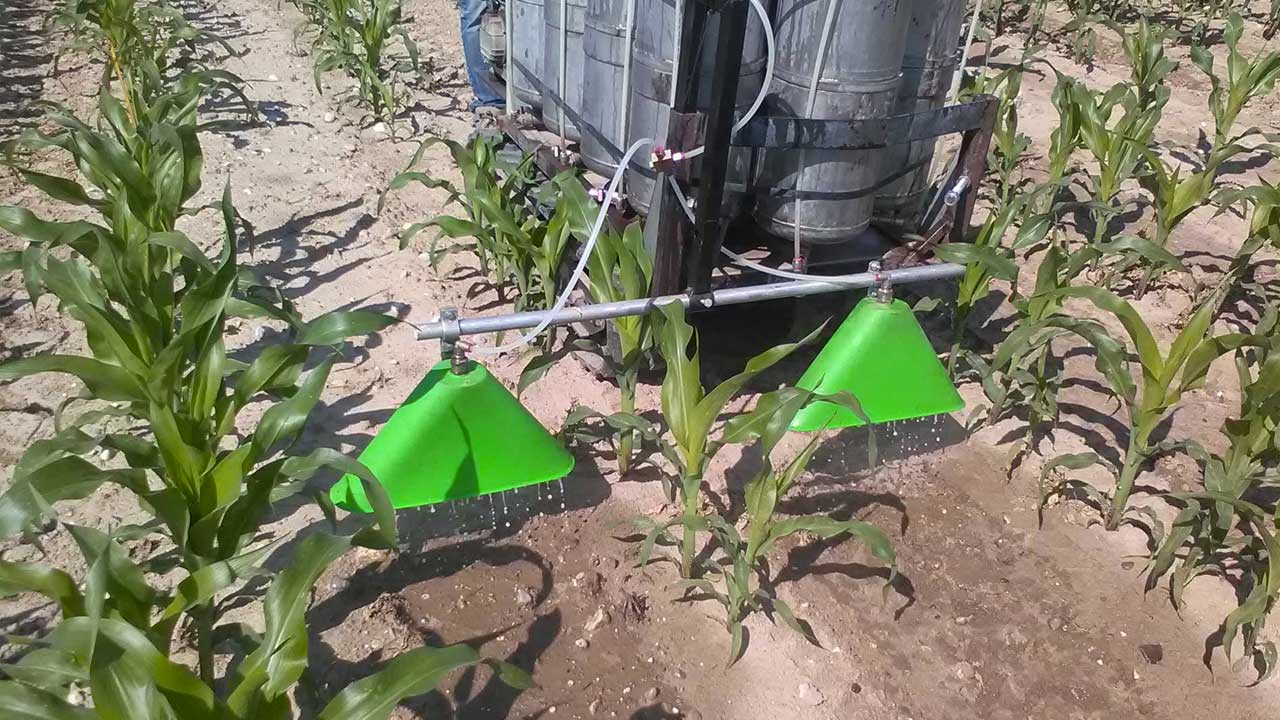 Trainings On New Projects
Research projects and internal training within the ANADIAG NETWORK for a continuous know-how exchange between technicians of different department and different countries.
Development of new innovative working procedures to improve the quality work.
Annual program of trainings for the team, thanks to the collaboration with the Universities and Associations of which it is part such as IBMA, FISSSA, AIPP, GRIFA and SIN.
Pubblications on scientific or agronomical issues:
Many pubblications and Posters on Giornate Fitopatologiche since 2006
Informatore Agrario
Contribution on the following book:
"Il mal dell'esca della vite, Interventi di ricerca e sperimentazione per il contenimento della malattia"
. Progetto MesVit, Università di Firenze, 2010
ANADIAG ITALIA is always available to participate and promote new research projects in collaboration with other companies or institutions, at local and European level.